NEW PROGRAMS IN 2019
11 September 2018
We are excited to announce two new onsite programs in 2019.
Fair Dinkum Dinosaurs – Year 5 & 6
This program focuses on Australia's Dinosaurs, their unique features, where they lived and what Palaeontologists have learnt about them through fossils, bones, footprints etc.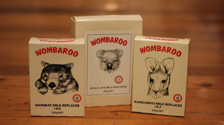 In this program, students will learn about the importance and composition of marsupial milk for infant marsupials. Students will use the AAS and UV Vis to determine the calcium and protein content in marsupial milk formulas.